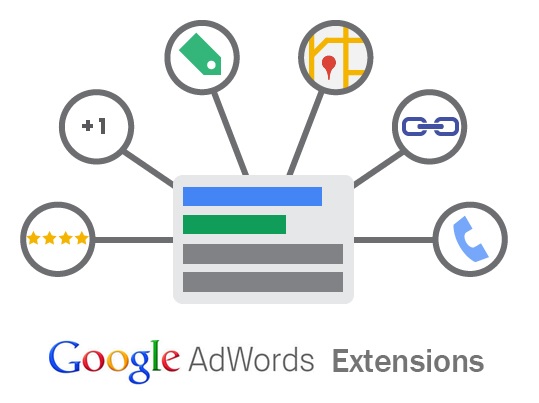 Running AdWord campaign can be very challenging, because of the variation of the results. One day your PPC efforts might bring in a huge quantity of leads, but not so much the other day.
You might be wondering the reason behind this variation, well there are a lot of factors that contribute to a successful or failing AdWord Campaign. I want to talk about one of the ways that you can give a failing PPC budget a a better chance. As we all know search engine presents us with a wealth of leads, traffic, and revenue generating potential. Out of all search engines, Google is the best of them. To fully utilize Google you should focusing on optimizing your AdWord campaign at its best, and the best way to do so is to use the AdWord Extensions.
What are AdWord Extensions?
In simple words, AdWord Extensions are just different ways to change, add, and alter your AdWord campaign. Different extensions do different things. Some can add reviews, or call button. While others can add a discount, or brief testimonials.
Why use AdWord Extensions?
One of the biggest struggle of a digital marketer is to make the most of the budget, and get the most ROI possible on the budget. For our purpose, you can make the most out of you AdWord budget if you are at least somewhat familiar with the AdWord extensions.
Here are ten extensions you should be using, but probably aren't.
Sitelink Extension:
Sitelink extension is generally used to help the users to navigate your website much faster. There are additional links that sit under your primary result link, they are linked to other pages on your website — maybe menu, coupons, special offers, or your blog. The primary function of this extension is to encourage users to choose where they would like to go instead of visiting the homepage of your website.
Sitelink extensions allows users to quickly and easily get where they want to go, so it is best to let them do that quickly.
Call Extension:
Call Extension is a very important extension to use in a AdWord campaign. For example, you feel like grabbing pizza for dinner and you browse your phone and search your favorite pizza spot. The first result is the one you want, since you couldn't find the call option on the SERP you decide to look for it on their website. But, you couldn't find the number and decide to choose another pizza spot which has a phone call option on the SERP.
Call Extension is very important feature because this extension builds trust among the customers. It shows that you are just one phone call away, and makes you more approachable.
App Extensions:
An app is a must for any serious Saas or e-commerce company. The reason behind this is that browsing an app is easier than browsing on a mobile website. App generally function smoothly, and navigating an app is almost always a breeze.
App Extension creates a button on which clicking it will give the user an option to download the app of the company they are searching about. You generally see this option below the results on the search engine.
Popularity of native application is not just my opinion. The data backs it up. 51% of online users use apps to place online orders, while the other 49% use website.
For this reason you should strongly consider using the App Extension in your AdWord Campaign.
Review Extension:
In the marketing world a customer review can change the shape of your business. A good review of your services basically tell the other users "This product is amazing. Everyone loves it, and you will too!".
64% of the users make their decisions based on the reviews they see, and 77.3% of those users say that reviews impacted their decisions.
The brilliance of 'Review Extension' is that, it displays a review on the SERP. You wouldn't have to wait till people click the link of your website to see the reviews of your services. They would be able to see them on the result page, and make it easier for them to decide. This leads to more click, traffic, leads, and conversions.
Callout Extension:
You are probably familiar with the idea of infomercial. The part where they "Try it you'll like it!" or "I have fallen, and I can't get up" is used to catch the attention of their target audience. This can be leveraged in the callout AdWord extension.
You can use this extension to say variety of things. It can be used to describe kinds of product you offer, call out your specific target market, or promote a special dea you currently have going.
Structured snippets extensions:
This is another way to offer the users the information of what your business is about. It is always better to have as many opportunities as possible to share with the users about the services your business offers.
This extension can be used to explain to customers the kind of services, styles, or products you offer. Snippet is a quick way to list a few different options that visitors will have if they click through to your website.
Location Extensions:
This extension is self explanatory, where you provide the address of your business. But a lot of business do not do that because some of them are online business and SaaS companies.
The practice of including the address in your AdWords result is good way to show the legitimacy of your business. This will generate trust among the customers, and will most likely will like to work with you.
I personally would like to work with a business who has it's address online, because I know it is something real.
Offer Extensions:
If you are a marketing you probably know the power of discounts. People love discounts, and love the opportunity to save money.
Using the offer extension can allow the users to see the discount on your services on the result page, which would attract more users.
Social Extensions:
Increasing power of social media is something that cannot be taken lightly, and should be utilized in the AdWord campaign through social extensions. If you are a marketer you might be familiar that social media is another way to enhance the effectiveness of your PPC ad. The social media extensions allows you to do that, but you can only connect it to your Google+ account. But something is better than nothing.
This extension gives an extra bit of incentive that browsers need to click on your ad.
Keywords Everywhere Chrome Extension:
This extension is a chrome extension for AdWord, not exactly an AdWord Extension. This is something that you should be familiar with, because it is a very helpful extension to have.
Here is how it works. After successfully installing the extension, you will notice that whenever you type a search into Google and hit enter, the extension will provide you with the average search volume for those exact keywords and also the average cost per click for any AdWords campaigns surrounding those keywords.
This extension is very beneficial because the most difficult part of choosing which keywords to target with your AdWords budget is figuring out the volume of the search and average CPC.